Listen up, Gridiron Gladiator! Football isn't just a game, it's a testament to your strength, speed, and strategic prowess. Any player, from peewee to pro, knows the value of top-notch protective gear. And there's no underestimating the importance of a high-quality mouthguard. Wondering why? A premier mouthguard doesn't just protect your teeth and jaw, it drastically reduces the risk of concussions and even enhances your breath control during those nail-biting plays. But not all mouthguards are equal. That's when 4KPS Mouthguard enters the field.
Let's make it clear, 4KPS Mouthguard isn't just another piece of equipment. It's your shield, your line of defense, your trusty ally on every play. Crafted with cutting-edge technology, 4KPS offers a personalized fit, ensuring supreme comfort and unbeatable protection. We stand for resilience, precision, power – the very foundations of your game. And to complement your unique style, we offer a wide range of colors and designs. After all, why not make a statement while rushing for that touchdown?
Here's the mantra, "Keep Your Guard Up". It's not just a phrase, it's a way of life. With the 4KPS Mouthguard, you guard more than your teeth; you guard your endurance, your determination, your legacy. You're not just a football player. You're a warrior on the field, and your mouthguard should reflect that.
You're one click away from enhancing your game. Don't wait, keep your guard up and order your 4KPS Mouthguard now. Stand firm on the field, unyielding, unstoppable.
Ready to score that game-winning touchdown? Click that 'Buy Now' button and make the 4KPS Mouthguard your ultimate game-changer today.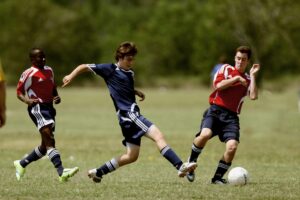 Excel in Gaelic football like never before with the 4KPS Guard, the industry's leading athletic mouthguard designed to provide ultimate dental protection. A game of...
Read More